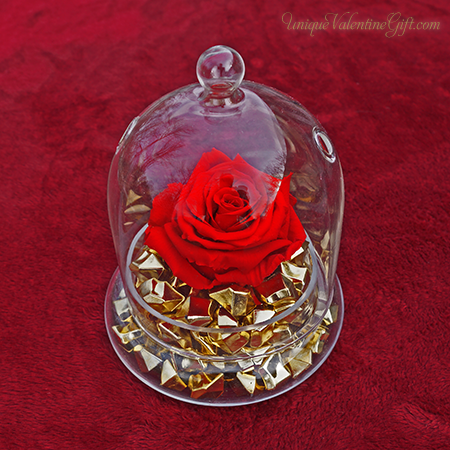 Payment method accepted
Billing questions please call 202-285-3238
Looking for a captivating singular beauty? This single eye-catching immortal rose will bring a special touch to your own romantic fairytale. The legendary White House scarlet rose is like no other, a timeless still-life that recreates all the romance and magic in a wistful romantic setting. It is a real rose, preserved in a secret proprietary process. The flower is meticulously surrounded in metallic faux gold nugget jewels. We will add more expensive gems, for an additional charge, if you wish it. The arrangement is enclosed in a clear bell cloche glass terrarium. The price of this sweet romantic sentiment is fair indeed.
Our unique handcrafted centerpieces are used by event planners and venues around the nation. Contact us about wholesale discounts.
All items are insured and delivered to your home by the United Parcel Service. UPS is committed to doing "absolutely, positively" whatever it takes to deliver your item to you.