Cupid's Treasure Chest Message in a Bottle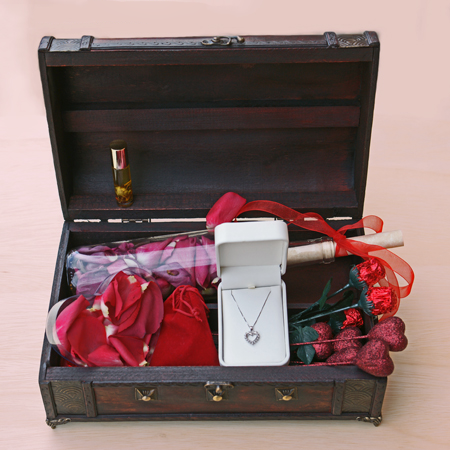 Payment method accepted
Billing questions please call 202-285-3238
$589.00
Product ID: 9876045
Unique Valentine Gift presents the Cupid's Treasure Chest.
This year we are proud to offer Cupid's Treasure Chest, our nicest gift available. You will make a very strong impression to your Valentine when they are presented with this fantastic gift. Made out of real wood, Cupid's Treasure Chest comes complete with the following: a large treasure chest filled with our premium message in a bottle (bottle filled with real long-stem rose petals, the love poem printed on parchment paper, tied with a satin bow and inserted into a silk and velvet bottle sleeve), real long-stem rose petals contained in a clear, heart-shaped box to spread on the bed or in the bath, a bottle of our aphrodisiac love potion, six solid milk-chocolate roses and a velvet bag with Akasha gems.
To top off our finest offering is, of course, fine jewelry: 1/2 Carat Diamond Prong Set Heart Pendant in 10k Gold. The heart pendant weights .58 carat total with round diamonds prong set in 10k white gold. This pendant measures 5/8 of an inch.
Use our Love Poem or create your own personalized message in the comment field during your checkout
Cupid Approved - I Love You. By Arlene Brown
I love you. Those three words are very special words to me. Before I met you I didn't truly understand what these words really meant. Those three words symbolize not only my love for you but my devotion and fidelity to the one and only person I have ever truly loved. And that is you.

Never have three words meant so much to me because they say what my heart already knows and what I feel deep in my soul.

I love you.

Today, Tomorrow and Always.
All items are insured and delivered to your home by the United Parcel Service. UPS is committed to doing "absolutely, positively" whatever it takes to deliver your item to you.