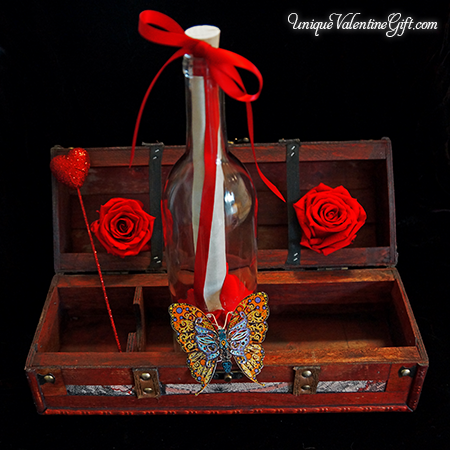 Payment method accepted
Billing questions please call 202-285-3238
Just as a caterpillar becomes a butterfly, friendship can evolve into love and a beautiful life long romance. Our Dancing Butterfly gift set captures eternal love with two real preserved scarlet roses, a beautiful multi-color metal butterfly ornament, and a very special message in a bottle, with real preserved rose pedals. This heart-felt poem is written your own very special woman. We hope our Dancing Butterfly Chest will change your relationship forever. From our family to yours, please enjoy this very special gift, and may the sentiment of this lovely poem fill the heart of your lover this Valentine's Day as it did for us.

Dancing Butterflies
Our thoughts blend like coupling wings, Searching for sweet syrup we crave, Fluttering together in anxious flight, Jets of nectar fount colored light, The scent of a flower wet and safe, Together we have found our place.
All items are insured and delivered to your home by the United Parcel Service. UPS is committed to doing "absolutely, positively" whatever it takes to deliver your item to you.