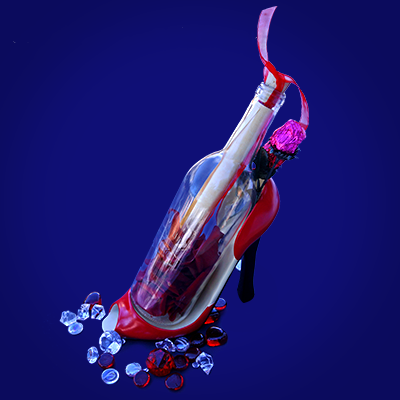 Payment method accepted
Billing questions please call 202-285-3238
$95.00
Product ID: uvg01292014b1
UniqueValentineGift.com presents the Fashionista Red Stiletto.
Our fashionista red peep-toe pump is a perfect modern gift to show your man how much he means to you. Our unique stiletto will connect him to that 5th Avenue woman he adores.
Your love letter comes in a bottle filled with silk rose petals that sits in our specially designed shoe bottle holder.
I Love Your Style My personal life was a designer name,
high heels, with an elegant fame,
From head to toe, with catwalk sways.
Then I saw your smile and something changed.
Standing under a downtown moon,
trapping me with your Dylan pose,
The way your lips played a sultry mood.
I followed your lines to your soul.
A pitcher of wine and a dozen roses,
My eyes filled with unexplored passion.
You are now and forever my fashion.
All items are insured and delivered to your home by the United Parcel Service. UPS is committed to doing "absolutely, positively" whatever it takes to deliver your item to you.