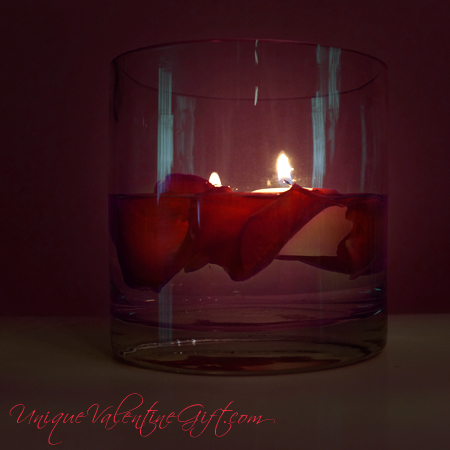 Payment method accepted
Billing questions please call 202-285-3238
$18.00
Product ID: 9813224
Unique Valentine Gift presents the Floating Lovers Candle and Rose Petals.
Our floating candle in vase accented by rose flower petals makes for easy, elegant, romantic table decor. The soft glowing reflections adds warmth and romance to your room.
Since the time of the ancient Egyptians, roses have been known to induce romance to those around them. Palace floors were strewn with thousands of rose petals daily and the Nile river had rose petals floating on her as far as the eye could see. Unique Valentine Gift is pleased to offer the Floating Lover's Candle and Rose Petals gift set. Some ideas include having on the mantle when your lover comes home, having it set up in the bedroom or with the lights off in the bathroom with this being the only source of romantic light. Kit includes silk, vanilla scented rose petals, a tea light candle and a glass to fill party with water for the petals and candle to float in. This is a can't miss addition to a romantic evening.
All items are insured and delivered to your home by the United Parcel Service. UPS is committed to doing "absolutely, positively" whatever it takes to deliver your item to you.