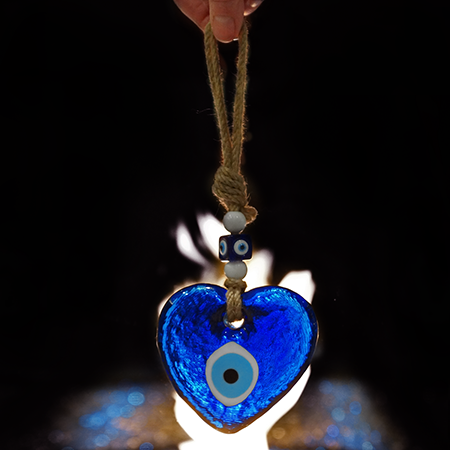 Payment method accepted
Billing questions please call 202-285-3238
$33.00
Product ID: HGEH20
UniqueValentineGift.com presents the 'Hanging Glass Eye Heart.'
Our hand molded glass art is carefully fashioned with blue and white concentric circles made to form the iris of a wide open eye in the center of a heart. Our hanging can be found in the bazaars of Turkey, Greece, Israel, and now throughout the world. Since this is handcrafted art piece will be different. This ornament also comes with a parchment note of its intention:
Cupid Approved

- Love Conquers All. By Luke Wilbur
May those who disbelieve in our love slip with their eyes, when they see our strength of commitment to each other.
All items are insured and delivered to your home by the United Parcel Service. UPS is committed to doing "absolutely, positively" whatever it takes to deliver your item to you.