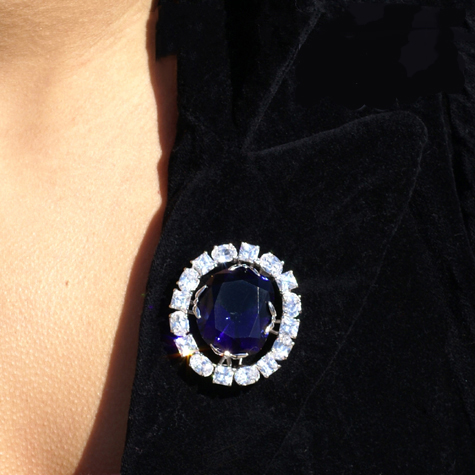 Payment method accepted
Billing questions please call 202-285-3238
$125.00
Product ID: 49143
The Hope Diamond is a large (45.52 carat), deep blue diamond, currently housed in the Smithsonian Natural History Museum. The diamond is legendary for the misfortunes it supposedly visits upon its possessors. The Hope Diamond appears a brilliant blue to the naked eye because of trace amounts of boron within the diamond. The Hope Diamond exhibits red phosphorescence under ultraviolet light and is classified as a Type IIb diamond
The Hope Diamond's history can be traced to a blue diamond named the Tavernier Blue, which was originally mined from the Kollur mine in Golconda, India, and was a crudely cut triangle shape of 112 3/16 carats (22.44 g). French merchant-traveler Jean-Baptiste Tavernier purchased it sometime in 1660 or 1661. According to legend, the Tavernier Blue was stolen from an eye of a sculpted idol of the Hindu goddess Sita, the wife of Rama, the Seventh Avatara of Vishnu.
This reproduction of Smithsonian's famed blue diamond has a hand cut glass center stone encircled by 16 prong-set Cubic Zirconia. Easily transitions from brooch to pendant. 1 1/2"w.
All items are insured and delivered to your home by the United Parcel Service. UPS is committed to doing "absolutely, positively" whatever it takes to deliver your item to you.