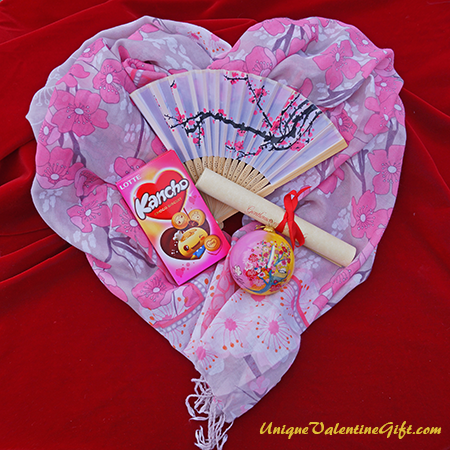 Payment method accepted
Billing questions please call 202-285-3238
Our Precious Howaito Dē or "White Day" gift celebrates a Japanese tradition of giving a special present to a loved one who gave a Valentine Gift as a way of reciprocating their intention. The gift comes with an Official National Cherry Blossom Ladies Pashmina scarf, one delicate cherry blossom design silk folding fan, one official hand painted National Cherry Blossom Festival ornament, a box of chocolate biscuits with a great flavor, and a traditional Japanese Love Exchange Poem by Sanu no Otokami.

Within the bounds of heaven and earth None, none can you find Who loves you as I!
Howaito Dē popularity has spread to China, South Korea, Tiawan, China, Taiwan, and Asian communities throughout the world. Share this unique tradition with the one you love.
All items are insured and delivered to your home by the United Parcel Service. UPS is committed to doing "absolutely, positively" whatever it takes to deliver your item to you.