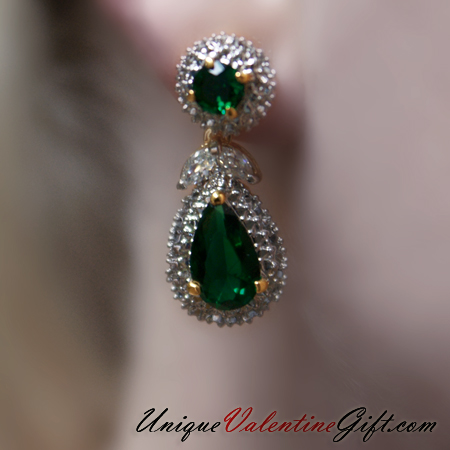 Payment method accepted
Billing questions please call 202-285-3238
$105.00
Product ID: 9813107
UniqueValentineGift.com presents the Jacqueline Kennedy Emerald Earrings.
Jacqueline Bouvier Kennedy had impeccable taste and style – of this everyone is in agreement upon. Jackie Kennedy thought the beauty of emeralds to be irresistible, and after the first lady wore her emerald necklace and matching earrings to the inaugural ball, she commissioned a matching bracelet.
We are pleased to present an exacting replica of her emerald earrings. These emerald-colored Swarovski crystals are prong-set in an intricately patterned chain of pure sterling silver, plated in 24k gold.
The earrings are gorgeous and can be paired with anything from blue jeans to formalwear. The earrings can also be worn as studs if you choose to remove pendant part of the earrings, which is as simple as sliding them off the studs. They also feature four unique marquise cut cubic zirconia stones. 1 1/4 inch high with pendant, 1/4 inch high with pendant removed.
All items are insured and delivered to your home by the United Parcel Service. UPS is committed to doing "absolutely, positively" whatever it takes to deliver your item to you.