Sappho Message In A Bottle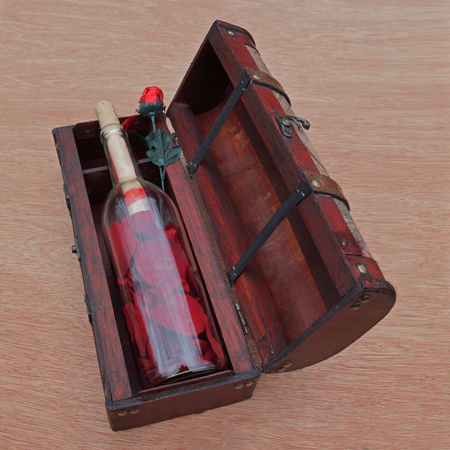 Payment method accepted
Billing questions please call 202-285-3238
$61.00
Product ID: 9813221
Unique Valentine Gift presents the Sappho Message In A Bottle.
Give your sweetheart the perfect gift this Valentine's Day that truly expresses how much special they are. The Sappho Message in a Bottle comes complete with your personal love letter, wooden treasure chest, and solid milk chocolate sweetheart rose.Your love letter comes in a bottle filled with fragrant vanilla scented silk rose petals that can be displayed for years to come. Surprise your valentine this year with this unique gift that he or she will always remember.Use our famous 'I Love You' poem or write your own in the comment field during checkout.
Cupid Approved - I Love You. By Arlene Brown
I love you. Those three words are very special words to me. Before I met you I didn't truly understand what these words really meant. Those three words symbolize not only my love for you but my devotion and fidelity to the one and only person I have ever truly loved. And that is you. Never have three words meant so much to me because they say what my heart already knows and what I feel deep in my soul. I love you. Today, Tomorrow and Always.
Please note each item we hand make is designed to be unique. No two gifts look alike.
Customers also purchased:

All items are insured and delivered to your home by the United Parcel Service. UPS is committed to doing "absolutely, positively" whatever it takes to deliver your item to you.