Vashikaran Yantra Love Chest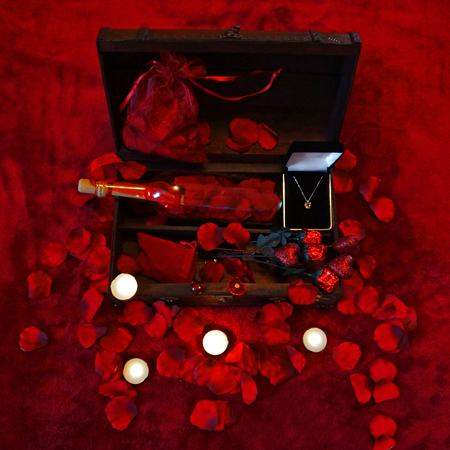 Payment method accepted
Billing questions please call 202-285-3238
$169.00
Product ID: 9813229
Unique Valentine Gift presents the Vashikaran Yantra Love Chest.
Dazzle your Valentine with our newest addition to the Unique Valentine Gift store, the Vashikaran Yantra Love Chest. Resplendent with our large treasure chest, our message in a bottle with silk, vanilla scented silk rose petals, a bag of gemstones, a sheer bag filled with vanilla rose petals, three milk chocolate sweetheart roses, three glitter roses and to complete this treasure chest is a Citrine necklace.
'Vashikaran' literally means 'to have someone under your control'. Hence, the Vashikaran Yantra is used to attract the person you desire. Have your Valentine close their eyes and concentrate to bless your relationship with all sincerity and ask God to grant you the desire of your life. Love prevails within our hearts.
Citrine is the stone of good fortune, and will sometimes bring it when least expected, and is known to bring abundance in many ways: along with prosperity and good fortune, Citrine dissipates negative energies of all kinds. Because citrine rids the wearer of negative energies, it helps generate stability in all areas of the wearer's life, and is thought to be quite effective at general protection. Citrine is the stone that brings happiness and cheer to one who carries or wears it. Sensuality and sexuality can also be heightened by Citrine. It will also give joy and love to its owner.
Cupid Approved The Poet's Love-Song By Sarojini Naidu
In noon-tide hours, O Love, secure and strong,
I need thee not; mad dreams are mine to bind
The world to my desire, and hold the wind
A voiceless captive to my conquering song.
I need thee not, I am content with these:
Keep silence in thy soul, beyond the seas!

But in the desolate hour of midnight, when
An ectasy of starry silence sleeps
And my soul hungers for thy voice, O then,
Love, like the magic of wild melodies,
Let thy soul answer mine across the seas.
Please note each item we hand make is designed to be unique. No two gifts look alike.
All items are insured and delivered to your home by the United Parcel Service. UPS is committed to doing "absolutely, positively" whatever it takes to deliver your item to you.